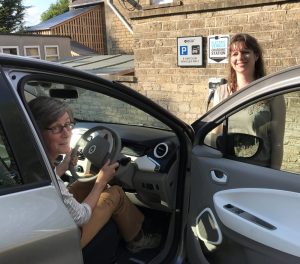 Frome Town Council is switching providers for the Frome Car Share scheme in order that an electric car remains an option for car club members in Frome. This will help meet the towns fossil fuel free and cleaner air ambitions.
The new partnership will bring a fleet of brand new fully-electric cars to Frome, including the technologically advance Renault ZOE hatchback. The car comes with an average range of 70 – 90 miles per charge, perfect for most day-to-day journeys. As the two new electric cars arrived  Councillor Tricia Golinski was on hand to put them through their paces.
A regular car club user herself, Tricia is delighted that Frome is able to continue to keep an electric car option in the car club. "It is a clean, quiet and lo-cost option both fuel costs, but also in relation to running your own car."
E-Car Club will take on existing Co-Wheels memberships and start providing Frome's car share service from the 1st June as well as offer members a discount for other Europcar hire. Existing co wheels  members will need to sign up with ECarClub . E-Car Club will also soon be operating in Bath and Midsomer Norton and already operates in Bristol.
The electric vehicles will now be located at the electric car charging station bays at The Cheese & Grain Car Park and Frome Town Hall. To sign up go to https://ecarclub.co.uk Members will also get 20% off Europcar Hire.