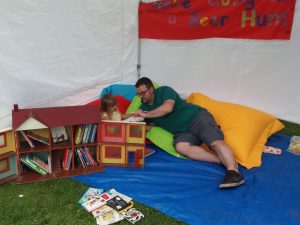 Frome Reads teamed up with Frome Children's Festival at the weekend at Frome Carnival Club Funday in Victoria Park. It was the first outing for the Frome Reads book corner with a series of free activities saw children and their families going on a bear hunt around the park following a trail exploring every corner, personalising their own Frome Reads bags by spray painting and stenciling and enjoying the book corner full of children's books kindly donated by Frome Rotary Club.
One of the first visitors to the corner was the Mayor Sheila Gore who had opened the fun day. Frome Reads is designed to ensure that reading becomes embedded in town life. Councillor Kate Bielby leading the initiative said 'We were delighted to be involved on Saturday at the Carnival Funday, a favourite event of mine. It was incredible to see the park so full of activities and families enjoying themselves. Going forward we are looking to grow the Frome Reads to ensure that there are reading opportunities all over the town"
Keen to support the work that the library already does Kate went on to say "If you find a book you like on one of our shelves why not drop into Frome Library and borrow more in the series. The library is free to join and easy to use, with librarians on hand to talk you through the process and regular events for children and families."
Frome Reads is a Frome town council initiative. The book corner is due to appear again this summer at Frome FM's Party in the Park on 2nd July in Victoria Park and again at the Children's Festival on the 9th July at Welshmill Park. For more information about Frome Reads and how to get involved and to donate children's books to the project please pop into Frome Town Hall.