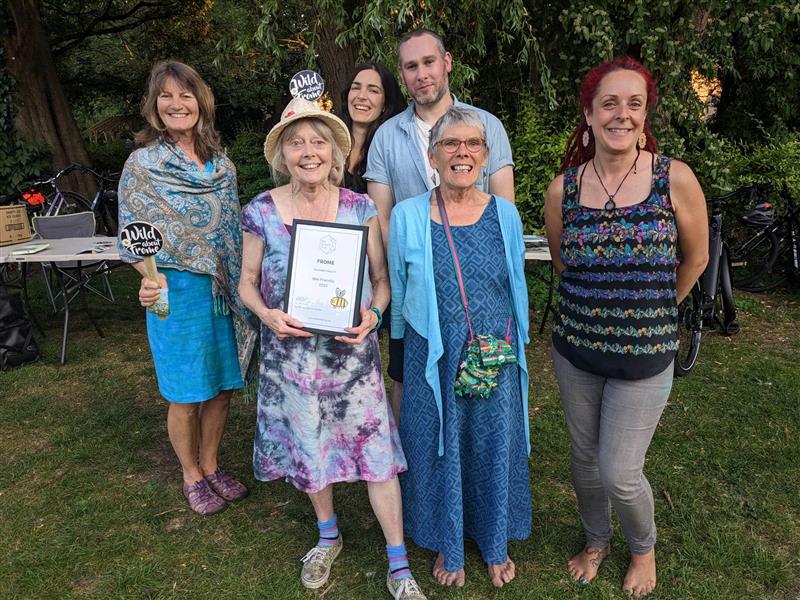 Frome has been presented with a Bee Friendly Award, from the Bee Friendly Trust who work with villages, towns and cities, along with community groups and businesses across England, to make them more bee friendly.
The award celebrates communities doing their bit to support bees and pollinators – and Frome is a fine example of that. Not only with its bee-friendly planters at the railway station, but also the host of wildflower planting across the town, the creation of new habitats with bug hotels and bird boxes, seed swap initiatives and more that ensures the town has quite the buzz!
Cllr Sara Butler said: "We're delighted that Frome has been given this Bee Friendly status, in recognition of all the hard work that's taken place across town to transform neglected spaces into bee havens. Whether that's in our parks and open spaces or individual gardens, making sure spaces are kept a little wild to encourage bees and other insects helps to boost our biodiversity across the town."
Dr Luke Dixon, Bee Friendly Trust co-founder, says: "We are excited to be extending our Bee Friendly Awards to include communities from local garden groups to towns and villages, and even new housing developments, ensuring bees and other wildlife are thought about in the growing urban environment. The Bee Friendly Awards are a celebration of all the people coming together around the country and creating new habitats where nature can thrive."
If you're interested on how you can make your garden a haven for insects and various ways we can encourage biodiversity, check out the Wild about Frome page.