Frome Area Community Land Trust (FACLT) and Frome Town Council are working together to develop a deeper understanding and raise awareness of the housing issues in Frome. These issues will be discussed at a town wide public meeting which will be held on Tuesday 18th July from 7pm – 8.30pm at Frome Town Hall and online via Zoom.
Ahead of the meeting the team are gathering real life examples to help assess the current housing needs and the obstacles that those wanting to remain or live in Frome are facing.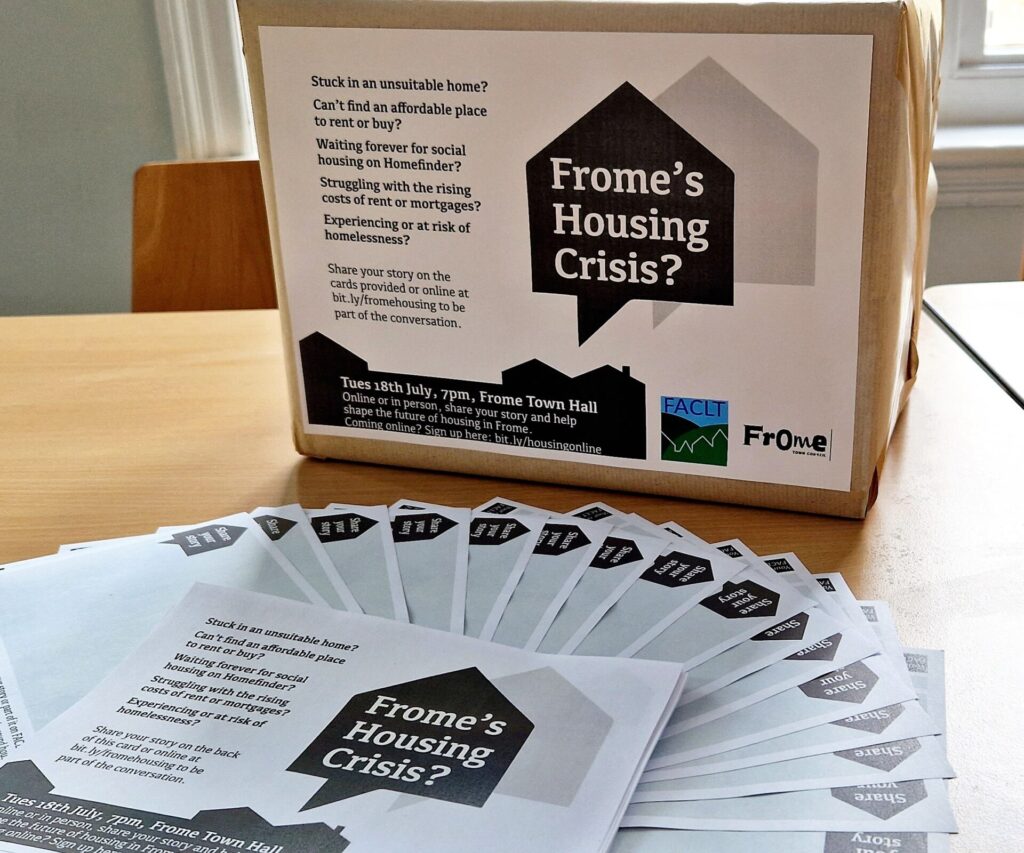 Cllr Steve Tanner said: "We'd like to hear your stories, whether you've had trouble trying to find a suitable and affordable home, whether that's social housing, private renting or even as a buyer? Maybe you're struggling to stay in your current home due to financial constraints, or feel stuck in an unsuitable home, or worse still experienced homelessness or even the risk of it? We've heard about long waiting lists on the Homefinder register and people who have been forced to move out of Frome due to lack of suitable, affordable options but these are just numbers, and we would like to hear some real-life stories to give some context behind the numbers.
If any of these resonate with you, please do get in touch and share your story with us. Every voice really does matter, and your story will help us advocate for change."
You can share your story by filling out our form here.
Alternatively, you can email FACLT or find postcards at Frome Town Hall and various other places in the town, with a box to pop it in. All information will be treated anonymously and handled in line with Frome Town Council's privacy policy.

If you are currently struggling, help is available – please take a look at the FIND Housing Advice page to access support, whatever your needs. Or if you have any questions or would like to get in touch, please email FACLT or get in touch with Frome Town Council.