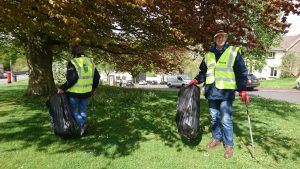 Frome's trusty Litter Warriors have been planning their comeback to help in the battle against rubbish in Frome.  While coronavirus put pay to the scheduled group litter picks, behind the scenes some helpful individuals have still taken to the streets and open spaces to help clean up on their own.
As some restrictions have now been lifted, the warriors have been planning the areas they would like to tackle, and they have some picks planned for the future.  The litter picks may look a little different now; they will need to be socially distanced in small groups and follow guidelines to keep everyone safe. If you'd like to join them, simply email and they can add you to a group: fromelitterwarriors@gmail.com
Of course, you can still do your bit for the environment in these challenging times by doing a solo litter pick when you're out and about.  Frome Town Council has equipment to help you, bag hoops and pickers makes the job so much easier, just email info@frometowncouncil.gov.uk to ask what's available.
Cllr Rich Ackroyd said: "It's great to see the Litter Warriors making their return, and I'm pleased to see that they are taking every precaution to make sure everyone in their small groups are safe. I would like to encourage individual litter picks too, with the equipment you can borrow from the council, now is the perfect time as it coincides nicely with the Great British September Clean which runs from 11th – 27th September. This has been set up to replace the Great British Spring Clean which was due to take place earlier in the year but was cancelled due to the pandemic."
You can find further information and tips here: www.keepbritaintidy.org