At the public Council Meeting on Wednesday 9th September, an agenda item covered the next phase of the Market Place improvements which involves improving the landscaping around the Boyle Cross.  Cllr Nick Dove explains in more detail the rationale behind this next stage: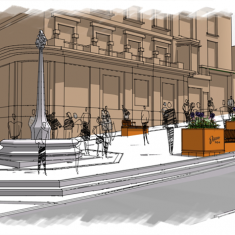 "I am one of the Ward Councillors for Market Ward which covers the Boyle Cross area. Over the last 16 months I've spoken to most of the local business owners and staff and many local residents. The overwhelming view from them was that they wanted to see a better use of the BC space, one that would be a place that people would like to visit, meet friends in and perhaps sit down have a drink and admire the beautiful buildings in the town centre.
When you think about Frome and where it's centre is you think about this space where we gather at Christmas, where our Wednesday and Saturday markets have been and which is at the juxtaposition of our historic shopping streets. When I first came to Frome it was a rather haphazard car park, then the area was cleared and levelled, the Fountain reconnected and a small section of wall and a seat installed. Electric power points have been installed so that traders could use the space without having to move heavy polluting gas bottles around.
Most people I spoke to wanted to see things growing in this space, wanted seating and some shade. The Fountain, Cross and Plinth are listed buildings and as such they cannot be interfered with nor the view of them obstructed unnecessarily. The site is sloping in more than one direction. It is a windy, exposed space and has the main town centre through road running past it. The site is also owned by Mendip District Council. These conditions make it a challenging place to change at all and to test how local people felt the BC area could look like and gauge support we asked a local artist to produce a sketch or artists impression of what it could look like.
Everyone I showed it to liked it but also had different views about planting, planters, umbrellas and seating. I had a view of what I'd like to see there which differed from many of my fellow councillors. But that is normal and to be expected. As a democratically elected Town Council we have a responsibility to ensure that if we are considering spending public funds then we need to make sure that we are doing so wisely and carefully and to try and make sure that what we are proposing will be of sufficient quality that it will stand the test of time and represent best value. After careful consideration and advice from FTC staff we asked NPA to come up with a scheme. We asked them as they had previously been responsible for the landscape architecture for the original Market Place changes and as such we believed they would already know the site well and we would be able to utilise this knowledge to reduce their costs. I along with others met the Landscape architects on site and briefed them explaining what we felt was needed and sharing the artists sketch with them. We also included in the brief the fact that any contractors used must be local.
Some of the things people wanted, including me are just not possible. For example trees over a certain height wouldn't be permitted as they would block the views of motorists and pedestrians and could cause danger to life. Some materials such as stone would have necessitated digging up the newly laid slabs on the Boyle Cross site. Wooden planters would rot relatively quickly. Because of its position in the town whatever we have has to be in keeping with the existing architecture. It has to be strong enough to withstand extreme weather, contain plants and hold the weight of people sitting on them. The sites sloping nature means that all the materials used need to be bespoke to the site. Even so when we received the drawings and prices I was shocked. We challenged NPAs figures and asked them to go back to the different contractors and renegotiate which they did and we managed to get a reduction in cost but it still feels very costly. But if you accept it will make our town centre more attractive and encourage visitors who will come and spend and boost our local economy is less than one pound per head of Frome's population be too much to spend on a permanent improvement? Will every one like it? No. Will some people hate it? Yes. Will some love it? Yes. Could we find something cheaper? Possibly but what would it look like, how long would it last, would it fit the site? Would it be safe and would it be acceptable to the planning authority, MDC and the Conservation Officer? These are questions we are still exploring.
The one thing I do not want to compromise on is the need for us to deliver a town centre space that is attractive, safe and inviting. A space where growing plants and running water will encourage local people and visitors to come and visit and help boost our towns wonderful local businesses. Rather than just posting negative comments on social media why not join me in coming up with ways in which we can deliver a beautiful town centre space? If anyone has better ideas or suggestions that we haven't already discussed then please feel free to contact me at Ndove@frometowncouncil.gov.uk."
Published 11th September 2020