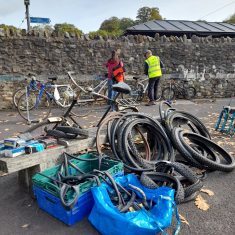 An astounding number of bikes and accessories were donated for Frome Town Council's 3rd annual bike jumble last weekend. Held in association with Frome's Missing Links, the generous folk of Frome donated over 115 full bikes prior to the sale, with 20 being donated on the day too – this is a record, in the previous two years the total number was around 35!  Alongside the bikes many frames, wheels, cranks, parts, and accessories were also donated to be sold.
All donations were accepted at special socially distanced sessions at the Town Hall car park, and all items were checked and cleaned before they went on sale.
The day could not have gone better, with the weather allowing many people to find themselves a two-wheel bargain. There was hand sanitiser, sanitising wipes, and disposable gloves aplenty to keep in line with Government guidelines and the sale was spread over a large area so people could keep a distance while looking for their bargain.  Sitting alongside the weekly Saturday market the place had a real buzz and drew in many more shoppers.
An overwhelming 91 bikes in total were sold on the day, and alongside the parts and accessories raised an astonishing £3700, which is more than the previous two bike jumbles combined!  All proceeds will go towards Frome's Missing Links, the local charity working to link up traffic free walking and cycling routes in and around Frome.
Chairman of Missing Links, Cllr Rich Ackroyd said: "We were blown away by the amount of bikes that were donated, and not to mention the amount raisied! With the sale of the bikes and accessories, we hope that the many people who attended went home with a bargain and will look to cycling as a new hobby.  We really want to thank people for their generosity in donating and buying, all the proceeds will go along way to help with the planned work for Frome's Missing Links".
All bikes and accessories unsold on the day will be kept for future sales and will be offered to Fair Frome.
Published 15th September 2020