Frome FM held a hugely successful community open studios day on 28 January, inviting members of local groups to enjoy and take part in live radio.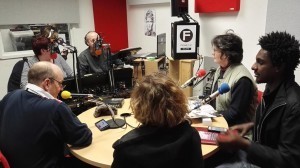 Two local groups who have particularly benefited over the last year from involvement with FromeFM, supported by Frome Town Council grants, are the YMCA and Frome Community College News Club.  The YMCA group has been mentored by a FromeFM volunteer and created  series of programmes entitled Taboos, in which they explore some of the difficult issues faced by young people.  FromeFM volunteers led workshops at Frome Community College to give the News Group the tools with which to produce their own news programmes that might become part of the regular output of the radio station.
Frome Town Council was delighted to hear that, alongside great partnership work at Frome FM, some of their presenters continue to be recognised further afield –  one of their youngest presenters, Izzie Hughes, presenter of The Room, has recently attracted the attention of BBC6 Music.
If you would like to get involved with Frome FM in any way, such as sponsorship, membership, guesting on a show, have the station work with you or record at and event you are organising, get in touch with them by emailing hello@frome.fm
Photo by Richard Clarke www.richardclarkephotos.com