Frome Town Council is teaming up with students from Frome College to Map Marston Trading Estate to find out more information about the various enterprises based there.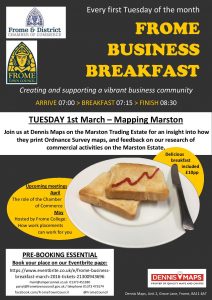 This Friday afternoon (12 February) students from Frome College will be knocking on the doors of businesses based on the Marston Estate to find out what they do. This project will enable the students to learn more about work and careers, and also allow the Town Council to get to know more of the Frome businesses around this part of the town.
Councillor Jean Boulton says: "The Town Council is keen to play a role in supporting Frome businesses – understanding their needs for space and services, and also building a stronger business community, able to support each other and the town."
The results of the 'Map Marston' project will be shared at the next Frome Business Breakfast on 1 March, hosted by Dennis Maps, situated at the Marston Estate.
For more information please get in touch with Laura Parry at parryl@frometowncouncil.gov.uk