An array of experts in renewable energy, low carbon refurbishment and sustainable transport are coming together on Saturday 5th March at the Cheese and Grain in Frome. 90 delegates from Frome's twin towns in France, Germany and Poland are coming to Frome to participate in the event which is open to all.
Anna Francis, Frome Town Council's Resilience Officer said "This is a unique chance to hear first-hand about some of the amazing things that are happening in Europe to cut emissions, enable energy security, boost the local economy and provide jobs and training."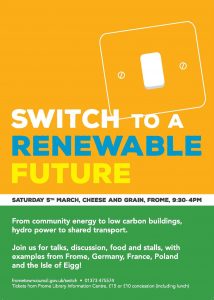 Alongside European partners, speakers include Camille Dressler from the Isle of Eigg who reclaimed their power as a community and produce all of their energy renewably. Professor Keith Barnham, author of the Solar Revolution, will also be presenting opportunities for renewable energy in Frome. Other subjects include local hydro power, community energy and biogas. A range of stalls and a vegetarian lunch will also be on offer as part of the event and discounts are available for Frome residents.
The programme, organised in partnership with the Frome Twinning Association, also includes a seminar at Rook Lane on Friday 4th March focussing on policy, planning and finance to enable carbon reduction. Tickets for both events are available from Frome Library or www.frometowncouncil.gov.uk/switch or call 01373 475574 for further information.