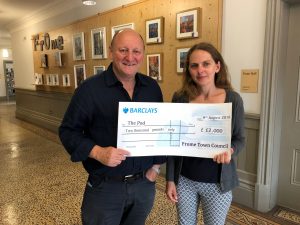 Frome Town Council are running a training session for trustees of local charities and community groups to learn all about good governance.
The course takes place over two days Thursday 20 and Friday 21 June from 6-9pm at Frome Town Hall. It will introduce attendees to the roles and responsibilities of charity trustees and what this actually means in practice.
The training is suitable for both new and more experienced trustees of organisations of all sizes and there will be plenty of time to answer any burning questions.
Strong governance should run across all elements of a charity's work such as the long-term direction of the organisation, implementing policies and activities to achieve objectives, complying with legal requirements. The board of trustees is responsible for good governance but they rely on many different people to be able to achieve success including staff, volunteers, advisors and stakeholders. This training will help them to make sure it's implemented throughout the organisation.
Community Grants Round closes on the 29th May
There is also still time to apply for a funding boost from Frome Town Council's Community Grant scheme. Not for profit organisations with a constitution and a bank account with at least two signatories can apply for between £300 – £2k. Groups must be able to demonstrate that their projects will have a positive impact on the Prosperity, Environmental Sustainability and Health and Wellbeing of Frome residents. The deadline is coming up on 29th May at 5pm.
Find out more and apply for a grant.
Tickets for Governance for Trustees cost just £30 per person and you must attend both sessions, book your tickets here.