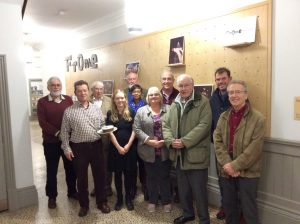 Sustainable Frome has been granted Awards For All funding to continue Frome's volunteer driver scheme – Frome Community Cars.
People who benefit from the service have difficulty in accessing affordable transport to travel to essential services, such as health appointments, shopping or even visiting friends. In the last week, our drivers covered over 100 miles within and around Frome and sometimes as far as Bath and Bristol. Every mile makes a difference.
Volunteer Hannah Stopford has been collecting stories from drivers and passengers. Hannah interviewed Tony Newlyn last week and said 'Tony had been recently widowed when he got a call from an old friend who was setting up the Community Car scheme two years ago. He signed up to be a volunteer driver straight away. Since then he's been driving passengers almost every day. Born and bred in and around Frome, Tony's a warm and friendly 83 year old with lots of stories and bags of charm. He's built up a rapport with his passengers, who have a laugh with him on their journeys. Often they'll be travelling to serious medical appointments and appreciate a bit of light-hearted chit chat on their way.'
The scheme is looking for new drivers. Anyone who holds a valid driving licence and are fit and well, has the potential to become a voluntary driver. The vehicle they use must have a valid MOT and car insurance and be suitable for car scheme work. Expenses are reimbursed at 45p a mile.
Frome Community Cars are also looking for people to help raise funds such as helping to bake cakes or serve tea at their pop-up 'cream tea' café at Improve Don't Move at the Town Hall on Saturday 8th June. The scheme has some exciting fundraising events lined up for this summer like Make Your Own Transformer Costume.
To get involved with Frome Community Cars and make a difference, please call 07596 591 391 or attend the next Information Session on Friday June 14th at 3:00pm-4:00pm at Frome Town Hall. There will be aero press coffee, tea, home-made cake and fresh fruit.