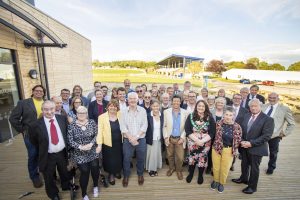 Mendip's new look council met last night bringing together the district's 47 councillors for the first time since the elections took place earlier this month.
With over half of the councillors being newly elected, it was a very different council that met, not only was there a dramatic change in the leadership after the Liberal Democrats took 22 of the 47 seats, but the make-up of the council looked very different with over a third of the council made up of female councillors. Four of those taking on the roles of Leader, Deputy Leader, Chair and Deputy Chair.
Cllr Ros Wyke takes over as Leader, supported by Deputy Leader Cllr Janine Nash and thecabinet, which is a mix of former and newly elected councillors. Cllr Helen Sprawson-White takes on the role of Chair with Cllr Bente Height supporting as Deputy Chair.
In her opening speech as Leader of Mendip District Council, Cllr Ros Wyke, said; "The opportunity to address this council, this new council, as leader of the largest group and leader of Mendip is a great privilege and responsibility.
"I lead a group of people who are younger, more diverse and I am proud to say, more gender balanced than ever before. It's my strongly held belief that when we bring people with different views and life experiences together to make decisions, we achieve better results for the people we are here to represent."
Remarking on collaboration and the council working across party boundaries to achieve positive change for Mendip's residents and communities, Cllr Wyke, said; "Just as for the suffragettes – deeds, not words, must be our motto."
In her closing comments Cllr Wyke mentioned all the those that the council is there to serve, from the shopkeepers and market traders in England's smallest city – Wells, the market towns of Frome, Glastonbury, Shepton Mallet and the village of Street, to the farmers and residents of the many rural communities.
Cllr Wyke, said; "We councillors are all amazingly proud to represent this beautiful part of our ancient County of Somerset.
"As we move forward, approaching our work for Mendip, we should try to forget what divides us politically, and remember the people who put us here. We're public servants to the citizens of Mendip, and it's in that spirit that our work begins tonight."
Following her election by council as Chair, Cllr Helen Sprawson-White, set out her plans to focus on health and education during her time as Chair. Cllr Sprawson-White, said; "As Chair I believe it is important that we send a clear message to our communities that we are an authority that is approachable, transparent and inclusive. I want all residents, members and officers to feel a real sense of pride and belonging to Mendip, working together to deliver effective outcomes and I will do all I can to break down any barriers that are in place to make this happen."
For more information about Mendip District Council's councillors, committees and boards and for a full list of public meetings, please visit www.mendip.gov.uk or contact Mendip District Council's customer services on 0300 303 8588.
The new Cabinet announced at Full Council was as follows:
Cllr Ros Wyke – Leader of Mendip District Council
Cllr Janine Nash – Deputy Leader of Mendip District Council
Cllr Barry O'Leary – Portfolio Holder for Enterprise and Finance
Cllr Simon Carswell – Portfolio Holder for Corporate Services and Performance Management
Cllr Tom Ronan – Portfolio Holder for Strategic Policy and Climate Change
Cllr Nick Cottle – Portfolio Holders for Neighbourhood Services and Enforcement
Cllr Heather Shearer – Portfolio Holders for Community Health Service and Enforcement
Cllr Richard Pinnock – Portfolio Holders for Housing Services
Cllr Damon Hooton – Portfolio Holders for Development Management (Planning) and Enforcement Services
Cllr Janine Nash – Portfolio Holders for Planning Policy and Local Plan
Cllr Peter Goater – Portfolio Holders for Economic Development
The council's committee structure and chairs and vice chairs will be as follows:
Audit committee: Chair – Cllr Josh Burr, Vice Chair – Cllr Liz Leyshon
Licensing Board: Chair – Cllr Sam Phripp, Vice Chair – Cllr Simon Carswell
Planning Board: Chair – Cllr Damon Hooton, Vice Chair – Cllr Nigel Hewitt-Cooper
Scrutiny Board: Chair – Cllr Philip Ham, Vice Chair – Cllr Garfield Kennedy
Standards Committee: Chair – Cllr Richard Pinnock, Vice Chair – Cllr Heather Shearer
Assets of Community Value Panel: Chair – Cllr Janine Nash, Vice Chair – Cllr Peter Goater
Council Tax Setting Committee: Chair – Cllr Janine Nash, Vice Chair – Cllr Barry O'Leary
Wells Recreation Ground Trust: Chair – Cllr Barry O'Leary, Vice Chair – Cllr Janine Nash
Phoenix Board: Chair – Cllr Ros Wyke, Vice Chair – Cllr Janine Nash