The Green Breather Days may not have achieved everything they set out to do, but they did succeed in sparking a conversation around how people might leave the car at home more and travel more sustainably. So here's some of the ways that you can leave the car behind and get out across Frome: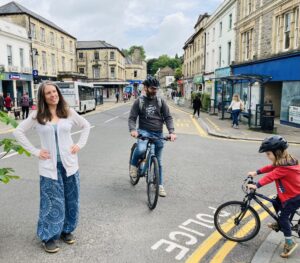 Walk
Frome is a relatively small town which, despite its hills, is easily walkable for many people. Sometimes we think a car journey is quicker than walking because we forget about the faff of parking, loading the car and scrambling for change at a ticket machine. For those who are able to, walking around helps to clear our heads from the general noise of life, and is healthy for our bodies.
When children walk to school, it can boost their concentration by up to four hours! Adults also benefit in similar ways too, with regular walking releasing endorphins and reducing stress hormones. And best of all, walking is free! It's always worth thinking about whether you can walk instead of drive if you are able to.
Find out more about some of the walks you can do around Frome by going to https://www.discoverfrome.co.uk/town-walks/
Ebikes
For those who love to cycle but find the Frome hills rather daunting, an ebike is the perfect solution. You can hire out an ebike from Pronto Bikes on Bath Street at only £12 for a full day, or you can build confidence by signing up to the free Cycle Together training programme run by Frome Town Council. The scheme lends you an ebike for a month and provides road confidence lessons.
People who use ebikes generally do as much exercise as those on normal bikes, because they're more likely to cycle further distances. 95% of those who have already taken part in the scheme have said they will cycle more in the future!
Find out more about Frome's easy Ebike options by visiting www.frometowncouncil.gov.uk/sustainable-transport/
Public transport
Frome has a few bus services that serve the town and beyond. Check out the local timetables on the Discover Frome website and join the public transport revolution. In fact, taking the bus can tick two boxes off right away, because the average walk to and from a local bus stop makes up half of an adult's daily recommended exercise. Frome also has a central train station to take you further afield and several taxi groups ready to take you where you need to go locally.
Find out more about Frome's public transport options at https://www.discoverfrome.co.uk/plan-your-visit/transport/
Car share
When a trip in the car cannot be avoided, whether time is short or there isn't a bus route to take you where you need to go, car sharing is a more sustainable option to owning and using your own. It enables people to break out of the convenience cycle of driving and only use the car when they truly need to. One car club car can take as many as twenty other cars off the road! In Frome, we have two Co-Wheels cars which can be booked out for as little time as an hour, with a discount for a free signup. Give it a try!
Find out more about sustainable travel by visiting www.frometowncouncil.gov.uk/sustainable-transport/
Further info:
https://sciencenordic.com/children-and-adolescents-denmark-exercise/children-who-walk-to-school-concentrate-better/1379550(children can concentrate for four extra hours)
https://www.treehugger.com/study-finds-e-bike-riders-get-much-exercise-riders-regular-bikes-4857418 (As much exercise as abikes)