Many Ukrainian families have settled in Frome thanks to residents opening their homes and supporting visitors to learn English and integrate with the local community, but there is still more that can be done.
Frome Welcomes Refugees which was formed to provide support to refugees, and those in Frome who are hosting them, is looking for more hosts, language teachers and work opportunities.
An overwhelming 1,100 Ukrainian refugees have sought safety in Frome's twin town of Rabka. Frome residents interested in becoming hosts are being asked to get in touch with Frome Welcomes Refugees and offer their support.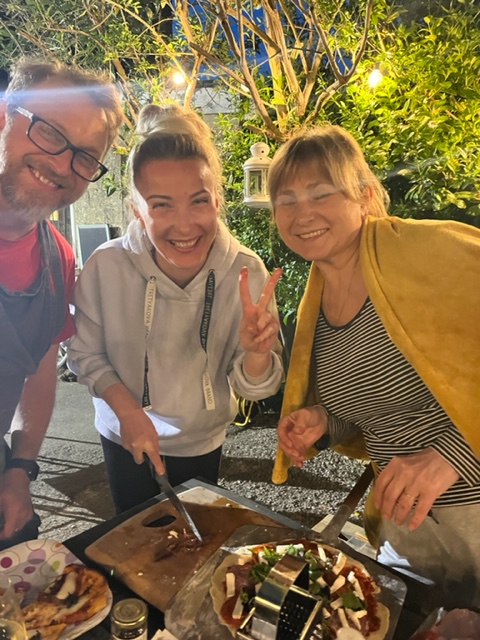 A local family who have welcomed Ukrainian visitors into their home said, "When we first put our names on the list and volunteered to be hosts, it came from an impulse simply to help in any way we could. We didn't spend much time thinking things through. With hindsight, having now had our guests living with us for two months, we could never have predicted how much they have brought to our lives. Sharing daily tasks: cooking, gardening, eating together, our hilarious struggles to communicate and learn about one another's lives and culture is enormously rewarding and mutually beneficial."
Another host family said, "It's not all a breeze of course, our guests have needed time to talk and to process what they have been through and what is happening to their country and we listen and, if need be, console.  What's great though is that there is back up – we are not alone, and the Frome community has really stepped up with support of many kinds and we are in constant chatter with other hosts in the town via WhatsApp and the occasional meeting.  It's good to know we are not alone and there are others we can call upon if needed."
Many of the Ukrainian guests have considerable employment skills and experience and are keen to put them to good use locally. Most are registered with employment services, but Frome Welcomes Refugees are looking for employers who understand there may be language and/or family limitations and are prepared to support guests take their first steps back into work. Alongside this there is also a need for more English teachers to come forward and facilitate formal English classes in a paid role.
Clare Hein, a volunteer with Frome Welcomes Refugees said, "Frome has been so very generous in its response to the situation in Ukraine, raising thousands of pounds to support those in need in Rabka and welcoming families fleeing from conflict. We are really pleased to be able to support residents who have welcomed refugees into their homes. We still need more hosts however and offers of work. There is a need for even more English language teachers to give support to the refugees learning or improving their English"
To volunteer as a host, offer employment opportunities and find out more about teaching roles via Frome Town Council's website www.frometowncouncil.gov.uk/support-for-ukraine
As always, if you are able to generously give to support refugees both in Frome and our twin town Rabka, you can do so online via www.justgiving.com/campaign/fromewelcomesrefugees. Alternatively, to donate on your mobile, simply text "UKRAID" followed by the amount you wish to donate (up to £20) i.e. UKRAID20 to 70085. The campaign is led by the Frome Welcomes Refugees group, along with the The Rotary Club of Frome, the Twinning Association and Frome Town Council.
"Our Ukrainian family, have been with us for 6 weeks now and it has really changed our lives for the better and given us a new lease of life!"

Host family one
"Dealing with the administration of getting them settled has on occasion been time consuming but we are happy to help ease the terrible worry involved in having to flee their home and concern for their family they have left behind in their war-torn country which they miss so much."

Host family two
"We get on nicely and share laughter we are very much enjoying this experience and making the most out of a dreadful situation that this and many Ukrainian families have had to endure."

Host family four