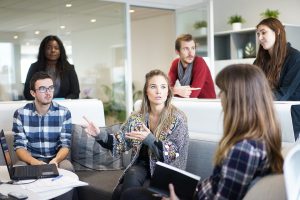 Soul Traders is a monthly meet up for people working on their own. Organised by Frome Town Council and held at the Town Hall, the event provides the opportunity to talk to other sole traders from around the town, support each other and make connections. Each month we discuss a different topic, led by one of the group members.
Previous themes have included increasing your visibility, breaking down barriers that are holding you back in your work, and finding the clients you want.
Councillor Paul Horton says, "This town is full of micro-enterprises and Soul Traders offers an important opportunity to get feedback on new ideas, a way for those of us who operate on their own to set goals and then check in with each other through this mutually supporting initiative."
Our next Soul Traders meeting will be at 4.30pm – 6pm on 11 July at the Town Hall. The session will focus on gaining confidence and experience at standing up and speaking in public.
It's free to come along to, if you would like more information please contact Vivienne Whitaker from Frome Town Council at vwhitaker@frometowncouncil.gov.uk
Published 28/06/2019