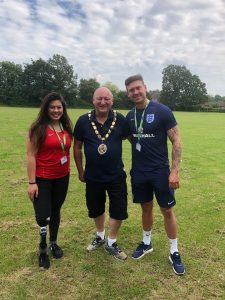 I have spent much of this week with some of the young people of Frome. Firstly I attended the annual presentation evening at Selwood Academy and was very impressed by the variety of awards on offer. In my schooldays there were prizes for being the best in each academic subject or sport, but Selwood have gone beyond this and reward their young people for the benefit they bring to others in the school and the wider community. It was heartening to see children realising how rewarding service to others can be at such an young age.
Frome Children's Festival is always a highlight and this year's must have been the best yet. The Town Council supports the event to bring a day of fun and adventure to all of our young people and their families. I was hoping to risk the zip-wire across the river but the queues were too long and I didn't want someone else to miss out!
Students from Frome College organised a sports extravaganza and arranged for two Paralympians to visit the college to inspire our young sports people. This was also an opportunity to raise funds for two charities (Winston's Wish and Martin House) close to the hearts of the Frome College community.
Frome Town Council recognises that not all of our young people are able to take advantage of such opportunities and this autumn we will be welcoming two project workers to see what can be done to improve the life chances of all our young residents.