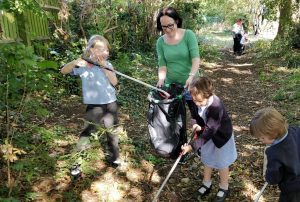 A community litter pick has given Tower View play park a new lease of life as 20 volunteers collected nine bags of rubbish to leave the area looking clean and welcoming for everyone.
After seeing many local people already picking up the odd bit of litter as they passed the area the Friends of the Mount, Marston and Keyford, with support from Frome Town Council, decided to build on this and organised an official litter pick opposite the Key Centre and Christ Church School.
Councillor Pippa Goldfinger said, "People pulling together and doing something as simple as a litter pick can help neighbours get to know each other and build connections as well as creating a welcoming and positive green space for everyone to enjoy. This really shows the amazing community spirit of the area."
Parents and pupils from the school also joined in to help support the clean-up with Jessica Slater parent governor of Christ Church school saying, "It was really great to have the involvement of the pupils and families from Christ Church First School come and join in the litter pick. All the children enjoyed getting involved, and it fosters such an important nurturing approach towards our local community."
Looking ahead, the Friends of the Mount, Marston and Keyford and Frome Town Council will be working together to help look after and improve the play area at Tower View. Both the play area and the green recently came into FTC ownership, having previously been managed by Mendip District Council. 
The next events are planned for the end of October when local people will be asked to participate in a People's Vote to determine how they would like the area to be improved. This is a really exciting time and the start of a long-term project to celebrate the area and its community.
Trustee Scott Ward from the Friends of The Mount, Marston and Keyford Community Association, who provided food and drink for volunteers, said "We are always on the lookout for ways to improve our local area and litter picking is just one aspect of this. The real challenge is finding ways to prevent the littering in the first place. This end of town has a bit of an unfair reputation of being a place that you wouldn't to live in when in fact this couldn't be farther from the truth. We have a fantastic school that is engaging the local community and together we are continually improving the facilities on offer to the children that attend Christ Church, add to this the plans for regenerating Tower View Play Park as well as our own Log Cabin and Community Garden and you have an area of Frome that will very quickly come into its own."
If you live in the Tower View area come along and find out more about the People's Budget on 26 October 3-5pm, 27 October 2pm-4pm, 30 October 10:30am-12:30pm. Anyone who would like to arrange a community litter pick in your area or borrow litter picking equipment please call 01373 465757 or email info@frometowncouncil.gov.uk