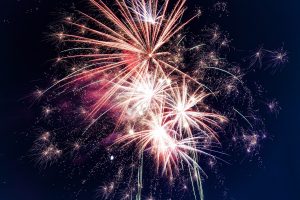 Frome Rotary Clubs have joined together to host a spectacular free firework display for the whole town thanks to support from Frome Town Council. 
The three Rotary Clubs were one of the successful community groups who pitched for funds in the People's Budget last March. The much-anticipated event is completely free to attend and will take place on 3 November at the Old Showfield, behind Frome Medical Practice, with refreshments available from 6.30pm.
Mayor of Frome Richard Ackroyd said, "The support for the fireworks was secured via a public vote so we know it's something that the people of Frome really want to see in their town. It's a nice way to bring the community together and is sure to be a show stopper so we hope lots of residents will join us."
The fireworks show will kick off at 7.30pm and will be accompanied by music. It is planned to be a very family friendly event with catering facilities available. The Rotary Clubs will be collecting donations on the evening which will then be distributed to local charities and causes.
Andrew Lee from Frome Town Rotary said, "Many Frome people have been asking for years why we do not have a public fireworks display. Rotary is delighted, with the assistance of Frome Town Council, to be given the opportunity to organise this event for the people of Frome. The event is free but we would like to be able to raise some money for local causes and make this an annual event."
Those attending are encouraged to walk or cycle to the Old Showfield as there is only disabled parking available at the Cricket Club. People are also reminded to not bring fireworks or sparklers to the event.
For further information please contact Frome Town Council on 01373 465757 or by email info@frometowncouncil.gov.uk. For event details go to www.discoverfrome.co.uk/event/free-fireworks-in-frome/.