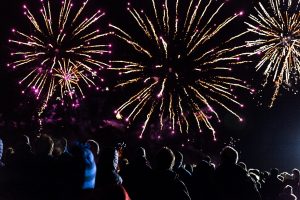 Frome Town Council are reminding residents to put Saturday 2 November in their diaries for a free firework display at the Old Showfield. Following the launch of last year's popular event, the town opted for the return of another spectacular display as part of the People's Budget Events vote.
Frome Town Council, with help from Frome Rotary Clubs, have been busy getting everything into place to ensure that the family-friendly event is another hit with the town. It will take place at the Old Showfield and there is no charge to attend. Warming and delicious refreshments from the Crumpeteers, Lickerbissen, Lottie's Kitchen and Matt Smith will be available from 6:00pm and the fireworks will explode into action at 7:30pm accompanied by music.
Mayor of Frome Mark Dorrington said, "Once again, the people of Frome have chosen to bring fireworks to the town, so we know it's something that they really want to see. If you're a fan of fireworks then this is definitely not one to be missed."
The fireworks display helps to bring the whole town together with around 6,000 people joining in the fun last year. As well as being a great community event, it can be less disturbing for local pets and wildlife as it encourages fewer displays taking place across the town.
The Rotary Clubs will be collecting donations on the evening which will then be distributed to local charities and causes. Road closures will be in place so anyone attending is encouraged to walk to the event. There is a limited amount of disabled parking available please emailinfo@frometowncouncil.gov.uk to find out more. People are also reminded to not bring fireworks or sparklers to the event.
For event details go to www.discoverfrome.co.uk/event/frome-fireworks-2019/