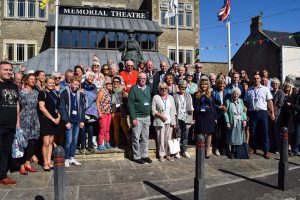 On 19 September Frome welcomed guests from its twinned towns in Poland, Germany and France for the annual Quadripartite. The event brings together the four twin towns to share ideas, build relationships and learn from each other.
This year it was Frome's turn to host the prestigious event and see everything Frome has to offer. 30 guests from each of the visiting towns were entertained with a full programme of activities, including the opportunity to see Frome's Carnival.
Mayor of Frome Mark Dorrington said, "A huge thank to Frome for giving our guests such a warm and friendly welcome during their visit, from local residents who opened their homes to the organisations that shone a light on what makes our town unique."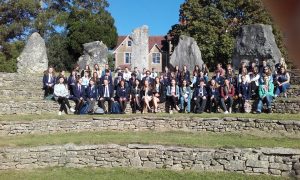 Many local organisations took part in the event with Frome Town Hall hosted the business meeting between the towns' mayors as well as a special youth council meeting for young people from the towns. The young visitors also met with students at Frome College and took part in a morning of special activities held at Frome's YMCA.
As part of the celebrations four Silver Birch trees were planted by the Rabka Gardens in Victoria Park to celebrate the 10th Anniversary of the twinning with Rabka-Zdrόj.
Frome's twinned towns are Rabka-Zdrόj in Poland, Murrhardt in Germany and Château-Gontier in France. To find out more about twinning go to www.frometowncouncil.gov.uk/twinning/
Published 03/10/2019