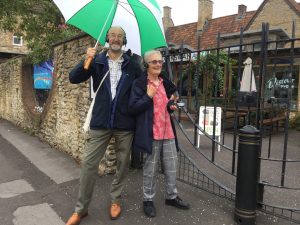 A free app that brings Frome's streets to life through voices and sounds is giving residents and visitors alike a new and exciting way to explore Frome.
Walking Memories is an easy to use sound walk which includes a map and downloadable app for mobile phones (Apple Store or Google Play) and offers listeners a chance to uncover Frome's interesting past thanks to using oral histories recordings collected by Home in Frome over the last 10 years. The material has been incorporated into this innovative app by artist and tech wizard Ralph Hoyte and Phil Phelps of Satsymph.
After successfully securing support from the People's Budget a Frome Town Council Community Grant along with funding from Frome Society for Local Study and the National Lottery Heritage Fund, the walk was launched commissioned as part of the Black Swan Art's Listen: A summer of sound art and the walk has now been handed over to Frome Town Council to host on the Discover Frome website.
It includes a map, complete with instructions on how to download the app and use it. Maps are also available to pick up from the Discover Frome Information Point at Black Swan Arts. Once on your phone, you can experience any part of the walk anytime you like, so lots of opportunity to explore all two hours of content.
As well as Walking Memories, Discover Frome has a number of walks available to suit a variety of interests. From Guided walks led by knowledgeable locals which included, Heritage Trees, Saxon Frome, comedy walks and more, to those you can take at your own pace such as Green Spaces, Plaques of Frome, or Whatcombe Fields.
Find out more about all of the Discover Frome walks , including the Walking Memories Sound Walk at www.discoverfrome.co.uk/town-walks/