Ukrainian refugees are being welcomed with open arms by Frome residents with 27 Ukrainian adults and 17 children now being hosted by local people who have offered their homes to those in need.
Frome's overwhelmingly generous response to Frome's Twin Town Ukrainian Appeal raised an astonishing £37,370 and has already begun making a real difference to Ukrainian refugees as they arrive and settle in our twin town Rabka in Poland.
Moving forward residents wanted to explore how the Frome community could offer assistance to refugees locally. This has led to the creation of Frome Welcomes Refugees which has been set up by local people to provide support to refugees, and those in Frome who are hosting them, by harnessing the town's collective knowledge and skills.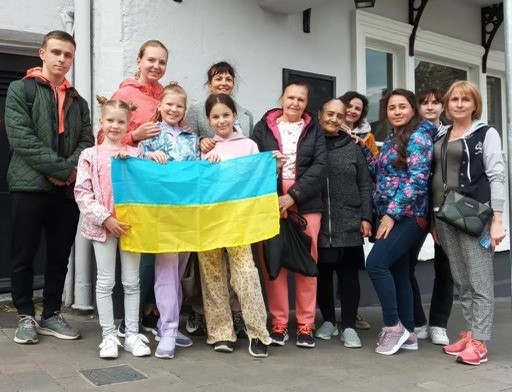 The Ukrainian visitors staying in Frome have been amazed by the support they have received, saying, "I am very grateful to my hosts and residents of Frome for helping Ukrainians in our difficult situation and saving us and our kids from the war in Ukraine. We feel your support every day! Thank you very much for letting us into your houses and becoming our new family! Special thanks to volunteers for their efforts in making our life in Frome easier, happier and more comfortable!"
Another family said, "We appreciate it and never forget, My daughter started to smile and almost forgot her war fears."
Find out more about Frome Welcomes Refugees and offer your support.
Cllr Anita Collier said, "It's wonderful to see Frome Welcomes Refugees is already engaging and supporting hosts and guests in and around Frome. Local business Twenty Fifty is helping to coordinate the network of support from hosting to offering your skills or befriending, so if you would like to offer your support please do get in touch."
You can still donate to support refugees both in Frome and our twin town Rabka by text or online at JustGiving. Alternatively, to donate on your mobile, simply text "UKRAID" followed by the amount you wish to donate (up to £20) i.e., UKRAID20 to 70085. The campaign is led by the Frome Welcomes Refugees group, along with the The Rotary Club of Frome, the Twinning Association and Frome Town Council.
"I am very grateful to my hosts. It was incredible support from them. Also huge support from volunteers who have helped find English teachers, a job and organized leisure activities for our children. We are also grateful to all the residents of the beautiful city of Frome who supported us during the first days of our stay here. These are just unique people here in the UK who are ready to support and help in resolving all issues for Ukrainians. With great gratitude and love."
"We are extremely grateful to our hosts. This is a wonderful family that opened the doors of their home for me and my mother in Frome. We have been part of this wonderful family since day one. We spend time together all the time. Also, they organized a special house in the garden for Ukrainians, where we can meet and spend time. Frome has very friendly and kind people."
"I am extremely grateful to our hosts for their hospitality, help and wise advice in each and every question. My hosts are very kind and we really enjoy to spend time together. They found a wonderful school for my daughter. Besides that our daughter became good friends and spent wonderful hours together."