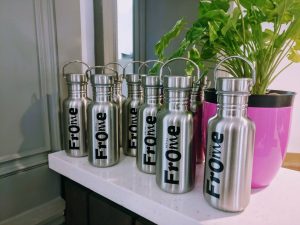 The total number of businesses and community spaces signed up to the national Refill scheme in and around Frome has now reached 30.
Launched by the Bristol-based charity City to Sea in 2017, Refill encourages people to ditch the plastic and refill their reusable water bottles.  It's thought that if just one in ten Brits refilled once a week, we'd have 340 million less plastic bottles a year in circulation.
Frome businesses have been quick to get on board and there are currently over 30 listed on Refill. It is quick and easy to find out where your nearest refill point is when you're out and about through the free-to-download Refill app. You can also see the list here.
Cllr Sheila Gore said, "Reducing plastic is at the front of many people's minds and at the shortlisting event for the up-coming People's Budget vote there was a lot of public support for the idea of water fountains for the town. It was pointed out that we already have something similar in place, where local residents and visitors can access free drinking water across the town via the Refill scheme."
As well as offering free water refills, many businesses are working hard to reduce other items of single-use plastic to help Frome become a plastic-free town.
You can also help the plastic-free campaign by supporting No Disposable Cup day this Friday, 4th October.  Remember your re-usable cup (available to buy in several of Frome's independent shops) if you're heading out for a cuppa – some cafés will even offer you a discount in return. You can also buy your very own Frome refill bottle from Frome Town Hall and the Discover Frome information Point at the Black Swan Arts.
Some businesses offering to refill your water bottle, are also members of You're Welcome. The scheme allows members of the public to use their toilet facilities free of charge, during normal opening hours, just look out for the 'You're Welcome' sticker in their window.
To find out more about Frome Town Council's 'You're Welcome' scheme visit www.frometowncouncil.gov.uk/youre-welcome/
Published 03/10/2019