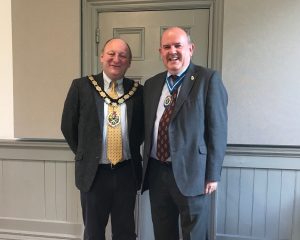 One of the most enjoyable privileges of being the Mayor of Frome is meeting visitors to the town who have heard how we do things differently and want to learn from us.
This week I met a party of social workers from Stockholm who have heard about our well-being strategy and hope to use some of our ideas back in Sweden. Closer to home, we were also pleased to host an official visit by the High Sheriff of Somerset, Johnnie Halliday.
High Sheriff Halliday is the Queen's legal representative in Somerset, but also has a keen interest in developing opportunities for young people in the county. He had heard that Frome has a council with similar aims. To this end, we arranged visits to Somerset Skills and Learning, the YMCA in Palmer Street (where he saw the work of the Routes Café and the accommodation at The Foyer), the Critchill School catering truck in the Cattle Market and the World of Work programme at Frome Community College.
Mr Halliday told me how impressed he was with the initiatives he saw in Frome. We are leading in preparing young people for their working life, and the council will continue to support all those organisations working in this field. I am sure Mr Halliday has taken back to Taunton a good impression of his time spent in our town.
The next four columns will be written by the Deputy Mayor, Anita Collier and I hope you give her as generous a welcome as the one you have given me.