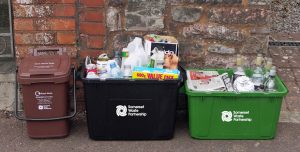 Recycling will be the next subject in Frome Town Council's series of rubbish meetings. After the first meeting in September which focused on litter, this meeting will seek to address some of the issues that arose and also feature recycling and the upcoming changes to Somerset's waste services.
The meeting will take place on the 11th December at Frome Town Hall and Nick Cater a representative of Somerset Waste Partnership who manages waste services for Somerset's county and district councils, including kerbside collections and recycling sites, will be present to discuss their plans as well as other ideas that could be taken forward.
He will answer questions about the service and explain some of the changes, including extra plastics taken for recycling at the kerbside to three-weekly rubbish collections, new services and other changes at recycling sites to the end of almost all landfilling of rubbish in Somerset. Nicola Tanner from the Edventure Frome will also take the stage to talk about building a local network of volunteer recycling champions.
Councillor Peter Macfadyen said "Recycling is a great way to reduce the impact of the things we buy. Many people are passionate about recycling but there are still lots of recyclable items that don't get recycled. Come and find out how you can get involved and inspire your neighbours."
Local residents who are passionate about recycling are being encouraged to bring along their ideas and suggestions about what could be done to improve recycling going forward. Ideas that are been considered include:
F

ollowing up with businesses to identify opportunities for more collaboration on recycling
Campaigning to highlight the impact of food waste and encouraging more households to get a (free) food recycling bin
Creating a guide to local waste-free and recycling resources
Sharing knowledge and learning to build awareness of the most eco-friendly packaging options
Work has already taken place to inform, educate and inspire individuals and businesses to recycle more, but there is always room for more.
Please join Frome Town Council on Tuesday 11 December 7 – 9pm at the Frome Town Hall and for further info please contact info@frometowncouncil.gov.uk