Do you panic when you hear the words "Christmas Shopping?" I know I do. But fear not, because Frome is a great place to buy presents. We have a huge range of independent shops and markets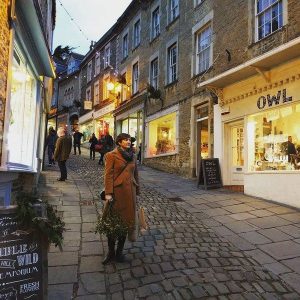 to choose from. Walk down our lovely streets, get some exercise and help to build our community by stepping out and meeting people – it's much more fun than buying on Amazon!
When we shop in Frome, our money benefits the town. According to research, about 60p of every pound spent in a local shop stays in the community, compared to only 40p from a large multinational outlet. Shopping in Frome means that we are supporting our local entrepreneurs, many of whom are still quite young and are busy generating employment for other locals.
Our independent shops often stock items which are made locally and aren't available elsewhere, like bespoke clothing or books by local authors. Also you can often try before you buy. Why have the hassle of waiting for a parcel and then sending things back in the post because the item wasn't as expected?
Buying local is also an ethical choice because our purchases have travelled fewer miles to reach us. For example, by supporting local farmers, it means the food is likely to be fresher and have less packaging. Also as a regular we get a better deal and better service – it's nice to be served by a friendly face and maybe take advantage of local discount schemes.
Think globally but shop locally – so that what you spend in Frome stays in Frome! Don't miss these events:
Frome's Christmas Lights Switch On takes place on Friday 30 November and shops will be open late.
The Cheese and Grain will also have a Christmas Extravaganza Market until 9pm on that date.
Small Business Saturday is on 1 December; MDC are offering free parking at Cattle Market carpark (only) on this day!
Don't forget the Frome Independent Christmas Market on Sunday 2nd December; last one of the year!
Catherine Hill will be doing their Christmas Pop-Up on Saturday 15 December, promising to be just as good as their summer event! Some shops on Cheap Street will also be joining in.