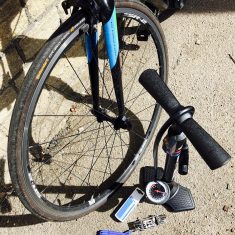 More and more people have been taking to two wheels during lockdown.  They've found it's a great way to keep fit, improve mental health and, in current times, to stay socially distanced.
To support the residents of Frome getting out and about on their bikes this summer, Frome Town Council are offering free bike safety checks and cycle training throughout August and September.
Dr Bike Surgeries
You may have a bike at home that hasn't been used in years? Could it do with a bit of TLC?
Every Saturday from 8th August to 5th September, FTC will be hosting a free cycle surgery at the Boyle Cross in the Market Place from 9am – 2pm.
The bike safety check will be carried out by a qualified mechanic, they will check over your bike and make minor adjustments if necessary – it will include replacement brake pads, inner tubes and cables where required but not cover major repairs. The mechanic will also inform you of any further work needed.
To enable social distancing, checks need to be booked in advance and a 30-minute slot will be available per bike.  To book your slot visit  www.buytickets.at/frometowncouncil/395742.  The safety checks are free but there will be a £1 booking fee.
Cycle Training
Whether you have recently returned to cycling, or maybe tried it for the first time, FTC is hosting a variety of training sessions for adults during September.
There will be traffic free sessions; one for absolute beginners, and another for those a little further along who can ride but want to get confident using gears, indicating, steering and stopping.
For those who are already confident cycling on quiet roads but would like some coaching to understand positioning, using junctions, route planning, there is an opportunity to practice these skills.
Not forgetting the kids, there is also a family ride along the Colliers Way, where you can learn how to ride together as a family in a safe, traffic free environment.
The cycle training will be in groups of up to 5 per session and social distancing will be maintained throughout.  The sessions are free and there is a £1 booking fee: www.buytickets.at/frometowncouncil/395601
Cllr Paul Horton, an avid cyclist said: "This is a wonderful opportunity to harness the enthusiasm for cycling that was created during lockdown.   We want to make it as easy as possible for residents to continue with getting out on two wheels and these surgeries make sure the bikes are safe and the training is the perfect opportunity for adults and families to gain confidence when riding their bikes".
For further information please contact Emma Parker, FTC Project Officer on eparker@frometowncouncil.gov.uk.
Published 21st July 2020