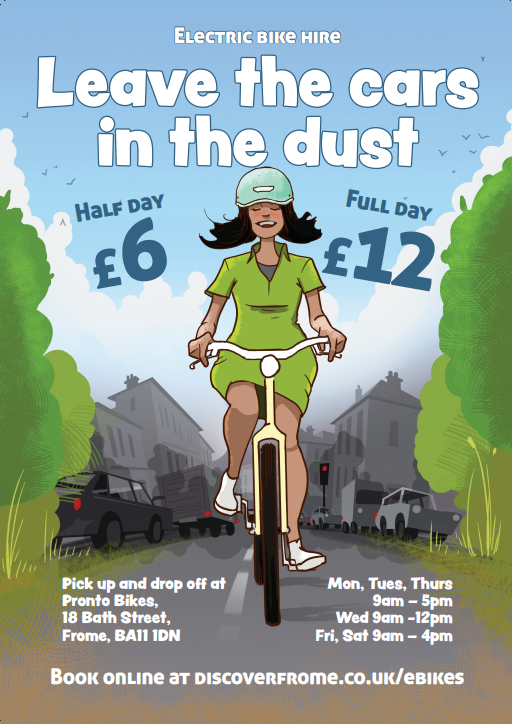 There is no doubt that traveling around Frome on a bike can be difficult due to the hilly terrain, but luckily Frome Town Council and Pronto have the solution. They are providing a service to make active travel in the town significantly easier: Ebikes for hire.
The initiative, which has proved extremely popular in the past was paused due to a change in venue, but the Ebike hire is now operating out of Pronto bikes. Justin from Pronto said: "We are delighted to be able to support the scheme and hope not only that residents, but visitors take advantage of it.  It is not only good for leisure but is also an excellent way for customers looking to that purchase one themselves to see how easy they are to use."
Ebikes are electric power assisted bicycles, which means you can cycle up Frome's many hills without breaking into a sweat. The Ebike hire scheme gives residents a chance to get out of the car and into the fresh air, as well as exercising and reducing their emissions.
Cllr Rich Ackroyd said: 'As a frequent cyclist, at first I was a little sceptical of the need for Ebikes, but once I gave them a go, I realised what a game changer they are. Fast, reliable and easy to use, these make cycling so much more accessible than it was before, with the added benefits of being healthier for person and planet than a car. Give them a go folks.'
For only £6 a day the Ebikes can be used at the user's leisure, and can be taken anywhere the rider desires, provided they get returned in time. They come with a helmet and a hi-vis jacket for safety.
To book yours, go to: https://www.frometowncouncil.gov.uk/ebikes/