We are ramping up our community support again this week to deliver new services to support those in isolation in Frome.  Are you isolated at home and don't have an active support network to call on? Do you have relatives who could benefit from these services?  We appreciate that you may not need these services yourself, but you may know of someone who is isolated that you can't help, and this maybe a lifeline for them.
FruberEats Emergency Food Parcels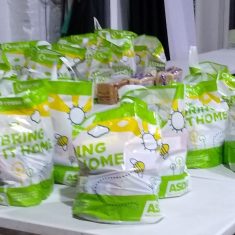 This is an emergency food parcel delivery service for those who have no support system and designed specifically for those residents of Frome who are running low on supplies and unable to visit the shops for basic necessities. The service will run Monday to Friday, and our lovely team of volunteers will pack and deliver the emergency parcels, there are two varieties to choose from:
This parcel will contain basic, non-branded essentials and might include items such as bread, milk, eggs, cheese, butter, a variety of tinned goods, tea, coffee, pasta, rice, cereal, toilet roll and soap – £20
A smaller parcel will contain milk, eggs, butter, cheese and bread depending on availability – £5
Payment for the parcels will be payable by card.  The parcels will be packed and delivered safely following strict guidelines and social distancing. Read about these guidelines on our Volunteer page.
To arrange for an emergency delivery, please call our main number on 01373 465 757, where our team will take details and make the arrangements.
ShopForMe Bespoke Shopping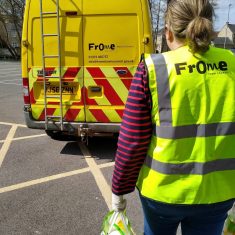 This service is for bespoke shopping, it allows more people to isolate properly for longer and therefore ultimately supports the NHS.   It is particularly important to ensure that our over 70's don't make unnecessary trips to the supermarket. Again, a call to the 01373 465 757 number where your details will be taken, we will match you  with one of the many fantastic volunteers that have come forward.  We hope to find volunteer that is local to you, they will liaise directly with you and the intention is they will include your bespoke shopping during their own food shop to minimise the number of trips made to a supermarket.
Dog Walking
If you're unable to exercise your dog we will try and match you with a volunteer resident who lives local to you who will be able to walk your dog as part of their daily exercise. Again, we have specific guidelines on how to safely carry this service out on our volunteer page.
Please help to spread the word of these new services for those in isolation in Frome.  It's for those who really don't have a support network or for those whose network they normally rely on is self isolating and not in a position to help.
Please call 01373 465757 if you, or someone you know, needs assistance. Lines are normally open Monday to Thursday, 9am – 5pm and Friday 9am – 4:30pm (with the exception of the Easter bank holidays).
If you would like to volunteer  to help with these services, please sign up.
Published 6th April 2020