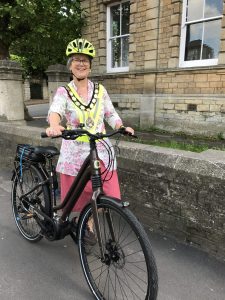 The new Bike to Health scheme opens in Frome this week.
The initial vision for a Bike to Health Scheme came from retired GP at Frome Medical Practice and bike enthusiast Dr Mark Vose. He had a vision that Frome could be the first community to be able to provide cycling as a health benefit.
However, one of the barriers to people enjoying cycling in Frome, particularly people with health issues, are all the hills and so the solution was to order two electrics bikes that people could enjoy cycling which have assistance if required. The Health Connectors at Frome Medical Practice will now be able to signpost patients who they believe would benefit from cycling to be able to hire bikes at a reduced cost.
Mayor Sheila Gore, and a non-cyclist was persuaded to try one out. She said "I haven't ridden a bike for years but the electric bike you can hire through the council was fantastically easy to ride. I picked the bike up from Cycology, the bike shop in town and rode up hill with little effort! Definitely going to hire for a ride sometime soon."
The scheme Bike to Health will operate from the 5th June where signposted residents will be able to hire an electric bike at a reduced fee. The costs will be £5 for half a day or a whole day for £10 and once demand has been established the scheme will be extended to the general public. For further information email nadenc@frometowncouncil.gov.uk