Local campaigning group Fair Housing for Frome has strengthened its hand by bringing in four additional directors bringing its board to up to nine in number.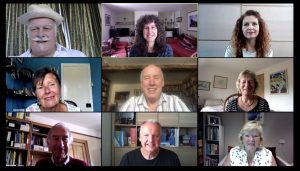 New to the board are former lettings agent Polly Lamb, Frome Town Councillor and new town Mayor Anita Collier, retired engineer Andy Jones and social worker Carol Foster. The new members bring specific skill sets and energy to FHfF
Following her appointment, Mayor of Frome, Anita Collier says: 'In the past I've see some of the devastating effects of homelessness and always promised myself that I would get involved in helping others less fortunate than myself, joining the board of Fair Housing for Frome is the opportunity I've been waiting for."
During the current COVID-19 pandemic and resulting lockdown Fair Housing for Frome has been working closely with private landlords and other agencies in an effort to understand the situation for tenants who may have either lost income or had their income reduced significantly.  With the current  lockdown the FHfF board have been hosting meetings on line using Zoom to ensure that the work goes on.
Housing Chair and Frome Town Councillor Ali Barclay says "We see the ongoing Coronavirus crisis as being a potential crunch point for many vulnerable tenants and whilst the organisation knows of a number of landlords who are helping struggling tenants there are without doubt people out there who can't pay the rent and are quickly building up debt or even facing homelessness in a few months time. The pandemic together with potential unemployment, the lack of available social housing and often high private rental fees could result in a perfect storm"
One particular subject currently under discussion is the issue of empty Airbnb's in the town. The B&B industry is as paralysed as much as other tourism businesses and Fair Housing for Frome would like to hear from Airbnb owners and encourage them to make properties available to rent by local people in housing need. Chair Ali Barclay says 'We would be really keen to hear from holiday property owners in Frome, although potentially temporary the idea of letting an empty home to local people makes perfect sense as it not only helps solves urgent housing problems it brings an income to owners who might be struggling without customers for some time, property owners can contact FHfF at info@fairhousingforfrome.org.uk for more information.
Fair Housing for Frome run a helpful Facebook page called Frome Housing Noticeboard which helps connect tenants with available properties, the page has seen a jump in activity in recent months which might be pointer to whats happening in the town. With the increase in unemployment and other health issues surrounding lockdown Fair Housing for Frome now plans to carry out surveys and engage with people and other organisations to assess where is best to put its energies for the remainder of the year. Ali Barclay added "Mendip District Council have recently added advice for struggling landlords and tenants asking those who need to talk to get in touch by calling 0300 303 8588 or by going to their website at  http://www.mendip.gov.uk/housing and Fair Housing for Frome would encourage those who are worried about their situation to make contact with Mendip District Council, more information is also available on our website: https://fairhousingforfrome.org.uk"
Published 27th May 2020