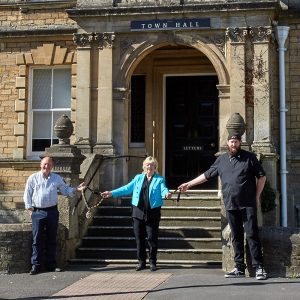 The Annual Council Meeting was held virtually on Wednesday night on Zoom and streamed over YouTube while we are following Government guidance on social distancing.
The virtual format was attended by many members of the public who were able to ask questions as if the meeting was being held in the Town Hall.
Current Mayor Mark Dorrington, started the meeting by saying how much he had enjoyed his year thanked the Cllrs and staff.   It was then time to elect the new Mayor, Anita Collier, who thanks Mark for all he's done as Mayor and welcomed Andy Wrintmore as Deputy Mayor.
Simon Keyes from Friends of the River Frome then gave a presentation outlining their strategy for the river for the next ten years. Their vision is that as Frome grows, its river should be conserved as a clean, healthy, nature-rich, free flowing river system which provides a natural habitat for a diversity of life and an accessible green corridor which connects people to nature.  You can read their full strategy here.
Following, in quick succession, the Cllrs then approved the adoptions of the Council's Standing Orders, Cllrs' Code of Conduct and the Power of General Competence. A report on these can be found here.  This was followed by the appointment of the Leader (Anne Hills) and Deputy Leader (Maxine Crawley) of the Council. Followed by the membership, chair and deputy chair of the Town Matters, Council Matters, and Planning Committees and Grants Advisory Group.
Next, Sarah Williams, Frome Town Council's Business Manager, presented the Annual Governance and Accountability Return for 2019/20 and the reserves earmarked for specific projects were approved. Details can be found here.  Alongside this, the Council's Financial Regulations were adopted, and the preliminary budget revision for 20/21 was presented.
Finally, Peter Wheelhouse, Economic Development & Regeneration Manager and Deputy Town Clerk, presented his report 'Towards a COVID-19 Recovery Plan for Frome'. His report set out some principles to guide the council's work on a recovery plan, some early workstreams, next steps in developing a plan for the town and some proposals for reviewing the town's emergency response. You can read his report here.
Frome Town Council is also asking residents "What next for Frome?" with a survey to learn about the town's experience of lockdown and what people would like to see happen as we recover.
The agenda and details of everything mentioned above can be found at https://www.frometowncouncil.gov.uk/meeting/council-annual-meeting-3/.  Dates of future Council and committee meetings can be found here. Follow us on Facebook, Twitter and Instagram to keep updated on everything we're up to.
Photo by Kate McDougall.
Published 22nd May 2020