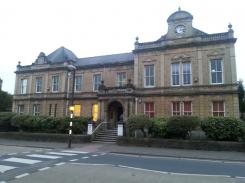 Last night, Frome Town Council, agreed to work with the County Council towards transferring the ownership of the current Social Services Building on Christchurch Street West.
Cllr Mel Usher, Leader of the Council said, "There's a long way to go but fantastic opportunities for the community don't come up very often".
This building was purpose built and housed Frome Rural District Council and the Town Council for most of the last century. It was transferred to the County when the Rural District Council was wound up in 1974. If it comes back under the ownership of the town we can create a real community hub for use by all manner of local groups and businesses. Meeting rooms and offices are in short supply in the town and this building has the capacity to compliment other provision in the town.
Cllr Usher continued, "Our next task is to get a survey done and agree a price with the County. If that goes well, we'll then kick off the conversation with local people about how we use it. Watch this space!"