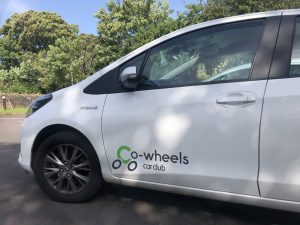 There is another answer to all your driving needs. Co-wheels is Frome's very own community Car Club which enables residents to make journey's in and around Frome without the expense and hassle of owning a car.
Frome residents' benefit from a promotion to get them started for just a £1. The vouchers, which will shortly find their way through people's letter boxes, also automatically start drivers off with £25 driving credit.
Mayor of Frome, Mark Dorrington said, "We know many people in the town are keen to cut emissions and keep costs down where possible, so I would really recommend anyone in need of wheels gives the town's car club a try. It's an easy, low cost and environmentally friendly option to get you where you need to go."
Co-wheels is simple to use as no deposit is required, insurance and fuel are included and the vehicles can be hired for as little, or as long, as needed. There are two hybrid cars available in Frome, one at Frome Town Hall and one at the Cattle Market.
The cars are more fuel efficient than the average owned car in the UK and the great news is that one shared car can keep up to 15 others off the road. Of course, if this doesn't sound like the best option for you, you can still save money and lower emissions by cutting down on car journeys. Options include using the town's EBikes, walking or trying public transport.
Find out more about the town's affordable, low carbon alternative to buying a car here.
Published 08/08/2019