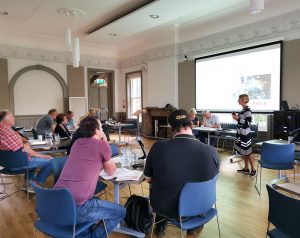 August's Town Matters started with a welcome from the Chair, Cllr Ali Barclay. After approving and signing the minutes from the last meeting there were questions and comments from the public.
Vivienne Whitaker, Projects Officer was first on the agenda to highlight key findings from the Town Centre Benchmarking project. She began by explaining that Frome Town Council (FTC) carries out this exercise each year to understand what businesses and individual users feel about the town centre and how these views compare with other similar sized towns around the country.
Frome College students helped to carry out the market research as part of their work experience week in both 2018 and 2019 and we now have an analysis that compares Frome's performance with other towns last year. The good news is that Frome has a more vibrant and thriving town centre relative to the national average. Most businesses were more positive about the future, with 64% feeling their turnover would increase, compared to an average of 42% of businesses nationally.
Town centre users were happy with what the town had to offer and viewed it as a clean and safe environment. In fact, nearly 100% of those surveyed would recommend a visit. Interestingly, there was a relatively equal split on how people get to town with 47% arriving on foot and 46% and arriving by car. Both businesses and individuals agreed that the markets, cultural activities and events in Frome make a positive contribution to the town.
The 2019 survey results echo the findings from last year.  There were some specific suggestions to improve the town centre emerging from businesses which included free parking and improved security. Town centre users were keen to see better bus services, cheaper parking and more men's clothing shops. To find out more read the full report here.
Next, Peter Wheelhouse, Economic Development & Regeneration Manager introduced an update on FTC's work in this area. The current aim is to create a positive impact on people's economic and social wellbeing by building a community of thriving ethical and sustainable businesses. Ultimately this will lead to more training, job opportunities and space to set up businesses.
As the benchmarking work suggests the town centre performs better than others of a similar size in terms of vacant shops and footfall, as well as bustling with many events. Still, there are important issues to be addressed. For example, a significant proportion of Frome residents in employment travel over 10 km to work (over 44%). Our challenge is to help keep jobs in Frome and create more. This will keep our town economy thriving as well as meaning that people won't need to travel so far, which is good for the environment.
Peter outlined some of FTC's current work to improve the availability of land and premises for business and boost Frome's image as a place to visit and invest e.g. through 'Discover Frome'.  Vivienne described the events FTC is leading to attract footfall to town centre shops and the support that is being given to business development in partnership with Frome Chamber.
Finally, Peter spoke about plans for the future such as closer working with Mendip District Council, sharing best practice with other town councils, supporting vocational education, investigating a mentoring programme and a Business Festival for 2020.
The presentation was followed by a discussion about the importance of this area of work and the need to remain innovative in our approach. You can read more about the detail of FTC's economic development work here.
The details of everything mentioned above can be found at www.frometowncouncil.gov.uk and the next meeting is Council Matters on 11 September. Follow us on Facebook, Twitter and Instagram to keep updated on everything we're up to.
Published 08/08/2019