Mendip District Council Press Release:
Mendip District Council has exchanged a conditional contract for the phased sale of Saxonvale to a developer to regenerate the derelict Frome Town Centre site. 
Acorn Property Group have worked with the Mendip and other stakeholders to produce a masterplan for development of the site. The plan is to deliver a high quality commercial and urban living development, which will provide a mix of uses, and accommodation to help satisfy current housing demand. Acorn has over 20 years of experience of successfully creating a range of residential led refurbishment and new build schemes, specialising in bespoke developments to meet local community need. Cllr Philip Ham, Mendip District Council's Portfolio Holder for Transformation, said; "We are delighted to have a Sale and Overage Agreement in place with Acorn and we have every confidence that they will deliver a fantastic scheme utilising their design led ethos to create a place that Frome can be proud of. "Acorn were an attractive purchaser because of their long standing success in projects of this nature, they understood what was needed from the site and we are confident that this marks a significant step forward in the long history of this Frome town centre site." 
Robin Squire, Regional Managing Director of Acorn's Bristol Office said "We are delighted to be working alongside Mendip District Council in developing a shared vision for the site. We both see this as a fantastic opportunity to deliver a high quality bespoke scheme and a vibrant new extension to the already successful Frome town centre. Our approach to every site is bespoke, ensuring that what we deliver is successful and sustainable. We are extremely excited about taking this project forward and working with the local stakeholders". 
Councillor Mel Usher, Frome Town Council said "Our initial impressions are that the scheme broadly reflects our previous position statement on Saxonvale and look forward to examining the plans in greater detail when they are considered by the town council. We welcome the opportunity to further engage with Mendip's vision for Saxonvale." 
Earlier this year the council took a bold and unusual move in buying the long-term derelict site. Frustrated that the site had laid empty for over a decade, despite the council working with a number of commercial applicants over that time. The council bid and were successful in purchasing the two adjacent plots formerly owned by Notts Industries and Terramond, which totalled around 9.2 acres of land. At the time, Leader of Mendip District Council, Cllr Harvey Siggs, commented; "Historically there have been a number of failed attempts at redevelopment with no plans ever coming to fruition, but we believe that we are now in a good position to enable the redevelopment of this key site in Mendip to happen."
Since announcing the purchase of the land, Mendip District Council have been having conversations with Frome Town Council and other key stakeholders in Frome; Chamber of Commerce, Civic Society, Ward Members, Somerset County Council Highways and key landowners. They have also sought expert advice from commercial advisors to bring forward a vision for the site. The vision for Saxonvale is; 'A generational opportunity to deliver an exemplar development on the banks of the River Frome. High quality design taking the historic grain of Frome as its starting point, and delivering a vibrant, mixed use neighbourhood, with flexible commercial/ employment space, high quality public realm, and homes for all ages'.
The overarching principle of the vision is to create a vibrant, high quality and sustainable development. Following the confirmation of the agreement with Acorn, Cllr Siggs, said; "We have met with a number of stakeholders in Frome including Frome Town Council and have been listening to their views and that has helped to develop the vision. An emerging masterplan is also being produced by Acorn and their Architects Nash Partnership. "We think that this will be a development that Frome will be proud of. Acorn will now work on the planning process and take the vision to the next stage." For more information you can visit  and to comment go to saxonvaleredevelopment.org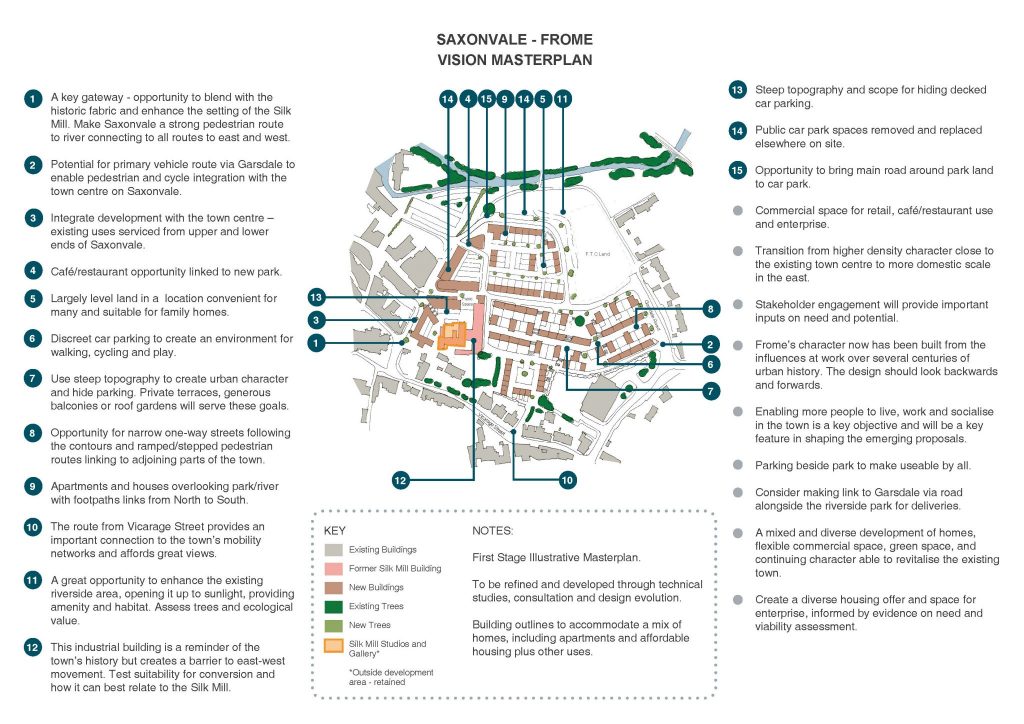 Frome Town Council's position statement can be found www.frometowncouncil.gov.uk/saxonvale-position/
13.11.18_Emerging Vision Masterplan, Saxonvale Frome
Published 13th November 2018