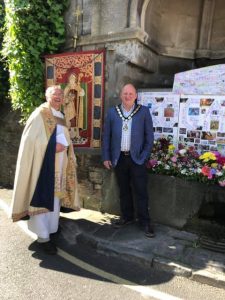 Welcome to my first column as the mayor of Frome. I am honoured and privileged to hold this office and look forward to serving the people of Frome in the coming year.
Last Saturday I attended my first official event, the blessing of St Aldhelm's Spring at St. John's church. St Aldhelm founded Frome in 685AD so it seems right that my first event was to pay tribute to the founder of our town and give thanks for the wonderful place where we live.
This Saturday I will be supporting a (relatively) more recent tradition, Frome Carnival. On Saturday there will be the annual Carnival Fun day in Victoria Park to raise funds for this year's parade in September. Our carnival is held very early in the season so some of the funds raised will be offered to other carnival clubs to encourage them to finish their floats earlier and bring them to our carnival. Those of us who remember the Frome carnivals of the 1960s and 1970s would love to see a return of those fabulous events and your support on Saturday will go a long way in helping the carnival committee to achieve this.
I will be in Victoria Park for much of the day so please come and meet me and give me your ideas on what you want from your town council in the coming year.