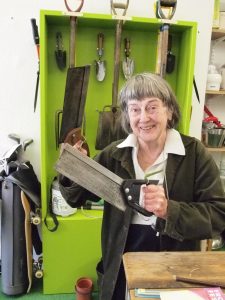 SHARE, the UK's first 'Library of Things' on the Bridge in Frome is celebrating its fourth birthday at the end of May.
Set up by Edventure CIC and Frome Town Council, the shop offers over 600 items to borrow for a small donation.
Recent figures have found that the shop is already saving Frome residents over £65,000 a year through offering cheap hire rather than buying new items. Anna Francis, Frome Town Council's Resilience Manager, who helped to set up SHARE in 2015, said 'Borrowing rather than buying makes so much sense – it saves money and storage space and also cuts carbon emissions and waste. When you need tools or are planning a party it's really worth having a quick look at the on-line inventory to see what you can borrow from SHARE.'
Shop co-manager Sam said 'It's been an awesome year – we've seen membership increase and have featured on Country File and the Guardian. To celebrate we are giving free membership to the first four people who come to the shop and say 'Happy Birthday'. We are also looking for local business sponsors. Hunter French are supporting our Household DIY range – we would love to hear from others who would like to sponsor this high profile and amazing project.'
Paul Martin, BBC Countryfile, Feb 2019 said "It's absolutely genius and should be rolled out across the whole of the British Isles"
SHARE is open Mondays, Wednesdays & Fridays between 10am and 4pm and on Saturdays from 10am-12pm. The on-line inventory can be seen at: www.sharefrome.org or contact the shop during opening hours on 07983 639611.