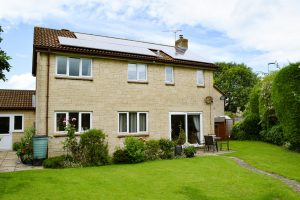 Frome's discounted solar offer has teamed up with Wessex Resolutions Community Interest Company to offer low interest loans for solar. Wessex Resolutions works in partnership with Mendip District Council to offer loans for a range of home improvements and this now includes solar too.
Frome Town Councillor, Rob Collett said 'So far 15 Frome homes have had solar installed under the solar streets programme and more are in progress. However, although the solar panels save households money and cut carbon, many households don't have £3,000 spare to fund the upfront costs. It's fantastic that Wessex Resolutions are able to potentially support these households in accessing low interest finance for solar.'
Martine Bryant, the Somerset Adviser at Wessex Resolutions said 'We work with homeowners to take the stress out of funding home improvements. We're delighted to be supporting Frome's solar streets project. We see everyone as an individual, not a credit score. If your application is successful, we guarantee your credit or financial situation will not mean an increased interest rate. Everyone receives the same interest rate no matter how much they borrow. The loans are available for homeowners who have lived in their property for at least a year and we have worked in partnership with Mendip District Council since 2006'.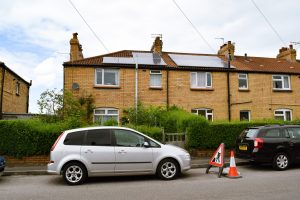 Cllr Tom Ronan, Mendip District Council's Portfolio Holder for Strategic Policy and Climate Change said 'We are pleased that our partners Wessex Resolutions are supporting homeowners to provide renewable energy installations to their homes.  Frome's solar streets project is one example of this, which will make solar more accessible to the community and will help households save money and cut carbon. We work closely with Wessex Resolutions and the Centre for Sustainable Energy who provide free advice on home energy to all Mendip residents and we hope to see more partnerships like this across our district'.
Over the summer, a team of Frome Town Council placement students will be visiting local households to encourage people to take part in the scheme and to look at ways of reducing their carbon footprint and cutting energy costs.
Residents interested in giving solar a go but put off by the initial cost, now have an opportunity to find out more about finance options to suit them and maybe make their solar dream a reality.
For more information about financing call: 01823 461099 or visit: www.wessexresolutions.org.uk
To find out more about Frome's solar streets offer visit: www.frometowncouncil.gov.uk/solar-streets
Published 26/06/2019