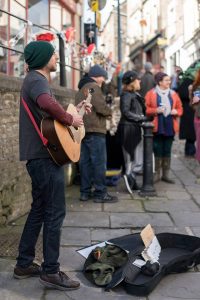 Entertainment in Frome is rarely something in short supply.  With two theatres, a cinema, art galleries, a museum, the Cheese and Grain and a host of other venues providing shows of all sorts, Frome offers something to do or see almost every day of the year.
Two brilliant events spotlight the wide variety of musical opportunities available this month.
March 23rd sees the first ever Frome Ukulele Festival.  A whole day of visiting ukulele players will descend on the town, starting at Rook Lane Chapel with a set by local tunesmiths 'The Decades'.   Sessions will include open mic slots, music workshops, retail outlets, a battle of the bands competition and sing along opportunities.
A total of six venues will be acting as hosts and everything ends at the Cheese and Grain for a massive evening concert in celebration of the versatile ukulele.  Expect sets from the 'Mighty Frukes' plus star guests 'In Sync', Andy Dan, 'Opera-lele' and the battle of the bands finalists.
Open to all, this is a charity fundraiser for Fair Frome and Frome's Missing Links.
Tickets for the day are £16; evening only is £10 and £5 for children.  Street Food is available for £5.  Tickets available from The River House café or online at www.fromeukulelefestival.org/.
Last year saw the first ever Frome Busks competition for under 25's and this terrific free event returns on March 30th when a host of local young musicians will be trying to impress the judges and the public.
Performers will be playing a 30-minute set in rotation across eight pitches in the town centre from 11am to 2pm.  The winner will be rewarded with the chance to perform at 23 Bath Street and Sunrise Celebration Festival later this year.
Two fantastic ways to spend your time – what's not to like?