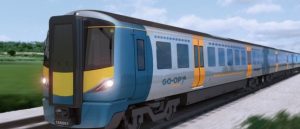 Rail travel could get a boost in Frome as a new train operator proposes a significant addition to the rail timetables from summer 2020.
Unusually, the operator is a co-operative: a notfor- profit business owned by those who travel on its trains and work for it. GO-OP Co-operative Limited is keen to hear from potential new members – which could be both prospective travellers on the new service, and those seeking employment.
GO-OP has been working on its plans for several years, with a group of frustrated rail travellers from the south west first meeting as a co-operative in 2009, ten years ago. Alex Lawrie, the Operations Director and a founder member, said, "The technical difficulties are hard to overstate. The UK railways are – for good reason – carefully regulated and we must prove in great detail that our ideas stack up."
The proposal is for two trains made up of newly refurbished class 769 units to work a complex series of trips between Oxfordshire and Somerset. Even though there are only two, a carefully designed timetable will complement the existing services (many provided by GWR) and provide useful connections so as to introduce a large number of useful journeys than you might imagine.
Mayor of Frome Rich Ackroyd welcomed the scheme: "Frome Town Council is delighted to hear of Go-Op's plans to run additional services to and from Frome. Usage at the station has increased hugely over the last ten years with very minimal increases in services and big gaps at peak times. We welcome any train operator that will help to meet these needs. The co-op model also means that benefits will be aimed at users and workers which is great."
The timetable (which will be put forward in terms of the overall number of services, rather than committing to specific times at this stage) provides:
At least three direct trips each way between Swindon and Oxford, including some in peak hours and two extending through to Nuneaton via Leamington and Coventry.
Five trips each way between Castle Cary and Swindon, including some in peak hours and others that extend the day with early and late departures. That will make a total of 25 departures a day from Melksham, close to an hourly service. Frome too would see a big jump in service levels, close to hourly.
From Castle Cary, four of our trains continue to Taunton, and two go to Yeovil. Combined with the existing Heart of Wessex services this should provide a more or less two hourly service between Westbury and Yeovil; and the Taunton trips combine with GWR's planned service improvements to provide close to hourly departures in the peaks. Again, we are extending the travelling day with early and late trains.
The trips to Coventry from Oxford should connect at Banbury to good trains for Solihull and Birmingham.
The Yeovil services, coupled with some carefully timed interchanges at Castle Cary, should create a viable Taunton – Yeovil option with seven trips a day each way (including some direct services). At present, this journey is rarely considered possible by train. From Taunton, there are connections all over the south west.
Swindon will be connected to Taunton and Yeovil, with up to eight viable journeys a day (three being direct, others requiring one or two changes).
"As we are a co-operative, we want to engage with the potential users of the service early – and we'd also like to hear from people who'd like to try out with the team now, with view to maybe becoming employee members with us later", said Alex Lawrie. "We are holding our first public meeting in Taunton on March 21st, at the Albemarle Centre (TA1 1BA) from 6pm to 7.30pm; and following up with an event in Frome on April 4th. We'd encourage anyone who'd like to find out more to come to these events, or visit www.go-op.coop for more information. This is just the start – we need to start planning bus services to bring people to the stations, and consider how we can further develop and enhance the service. Anyone in the area we serve can be part of the conversation."