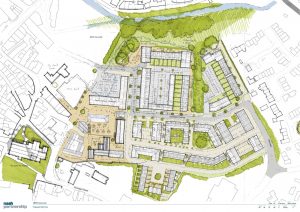 Acorn Property Group and Mendip District Council have issued the following statement: 
Following Acorn Property Group's second Public Consultation on Saxonvale with Nash Partnership at The Silk Mill Studios on 15th and 16th February, the emerging masterplan is now available online. This is the masterplan that was on display at the consultation event.
Acorn Property Group welcomes your feedback and would be grateful if you could take a few minutes to provide some comments on the proposals presented.
You can view the Emerging Masterplan, find out more information or to submit your comments here.
For more information on the Saxonvale Redevelopment go to: https://saxonvaleredevelopment.org/
Published 18th February 2019