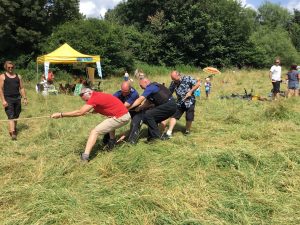 Last Sunday was a 'Super Sunday of Sport', with crucial fixtures in cricket, tennis and motor-racing. More importantly, the annual Meadowfest tug-of-war between councillors, police and town residents took place in Rodden Meadow. As some of us are often assured, winning isn't everything, it's the taking part that counts (just as well!)
However, it did remind me how important an active lifestyle is for our physical and mental well-being. It has long been a key part of Frome Town Council's strategy to encourage and assist our residents to live healthily. To support physical fitness, we have installed outside gym equipment at the Old Showground and improved children's play facilities in our parks and open spaces. We've also worked with Frome Selwood Tennis Club to support free tennis sessions at Mary Baily tennis courts.
In April we supported the Sports Festival, held in the park to give young people the opportunity to try many different sports, and in May the annual School Travel Challenge to encourage children to walk, bike or scoot to school. We hope they can continue to travel this way all year round as a healthy and sustainable alternative to being dropped-off by car.
For me the highlight of our sporting year is the Frome Half Marathon, taking place this Sunday. This will be the seventh year I have entered the 10K race and Frome seems to get hillier every year. I won't be wearing the Mayor's chain but if you see number 804 staggering past, any encouragement will be gratefully received!