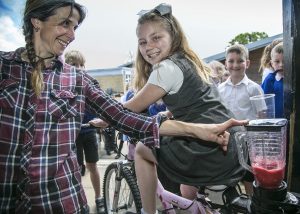 Eight local Schools are celebrating another year of boosting active travel to and from school. The Challenge took place at the end of May and saw over 1,700 students get involved in the week-long event.
The scores show that Frome is embracing sustainable travel with a significant increase in active journeys being recorded in all the schools. The top prize of most active school goes to Trinity First School who whizzed up to 84% with St John's First School coming a close second at 81%.
The Frome School which made the biggest overall improvement in travelling actively was Hayesdown First School with a 21% increase and the Village School with the biggest improvement in travelling actively was Beckington who showed a 45% increase. Remarkably two classes recorded nearly all students making their way to school via foot, bike or scooter with Willow Class at St John's First School hitting 97% and Bramble Class at Trinity First School 95%.
Mayor Mark Dorrington said, "Once again, the School Travel Challenge has seen real energy and commitment from our local schools. And the great news is that each year most of schools taking part start with a higher baseline than the year before, which just shows what an impact the challenge is having in promoting more active and sustainable travel."
Frome Town Council is continuing to work with the schools to encourage families to travel actively at least once a week as well as promote a five-minute car free zone around the schools. This will have a threefold impact: making it safer, reducing emissions and boosting health.
An incredible £526 has been raised for Frome Missing Links with more yet to come. Many exciting prizes have been donated by business and local organisations, including a Centre Parc's family day pass, return rail tickets to anywhere on the GWR line, child and adult swim passes from Frome Sports and Fitness Centre, 16 tickets for Frome's Roller Disco, 10 bike locks from Cyclology, reusable water bottles from Frome town Council, key rings from Missing link and reflective snap bracelets from Sustrans.
Take a look at Frome Town Council's website to find out more about the many ways they are supporting local residents to cut costs and carbon: https://www.frometowncouncil.gov.uk/resilience/
Published 13/06/2019