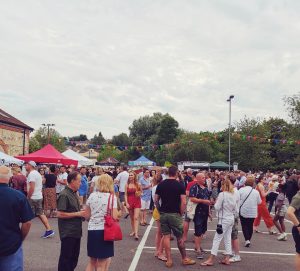 Last Saturday it gave me great pleasure to stand on the stage of the Cheese and Grain and welcome everyone to this year's Frome Festival. Since its' inception in 2000, the Festival has gone from strength to strength to become an event admired for the quality and variety of events the Festival team bring to Frome each year.
Some of the events have a charge attached, as artists and venues have to be paid for, but it has always been a feature of the Festival to provide free events so everyone can participate. It starts with the Festival Feast and continues with (to name just two) walks and art trails, and culminates this Sunday with Meadowfest, an event for all the family to celebrate Rodden Meadow and the River Frome.
Whilst the Festival is now well-established, this week saw the debut of a brand-new event, the Local Entrepreneurs' Forum. Four local enterprises, ranging from a food company to a toy library, pitched their ideas before 100 local people at the Silk Mill. As well as seeking financial investment they also asked for support from experienced business people to share their expertise.
I was so impressed with the offers made, such as child-care, printing or IT support, especially as it often means very busy people giving up their own time to support young entrepreneurs at the beginning of their careers. It is a credit to our town that we have so many residents willing to help their neighbours.