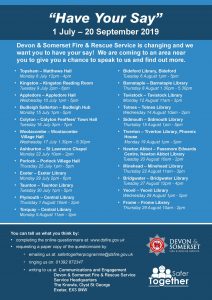 The fire and rescue authority that serves the Frome area is seeking residents' views on proposed changes to the service. Devon & Somerset Fire & Rescue Service have laid out six options for changes to the service across the 2 counties.
Mayor of Frome Mark Dorrington said, "I was pleased to see so many people at the Council meeting last week when firefighter Jason Collier raised the proposed changes to our local fire service. Any changes in Frome are of obvious concern, especially for future as our town continues to grow and develop. I urge everyone to take a look at Devon & Somerset Fire & Rescue Service's video to find out more and share their thoughts in the online consultation and attend the upcoming event at Frome Library."
Public drop-in sessions have been planned in 23 locations, including Frome. Frome residents are invited to come along to Frome Library from 10am-2pm on Thursday 29 August to find out more and ask questions about the future of the service and the proposed options.
There is also an online questionnaire you can fill out at any time before 22 September.
Some options propose that one of Frome's two fire engines is on-call at night only. The consultation document that is available to download lays out the reasoning and statistics around the proposals, which the service says will help match the resources available to the risks of each community.
The final decision will be made by the Fire Authority in November 2019, with changes taking effect from 2020.
You can find information about the consultation event, complete the survey and watch the video here.