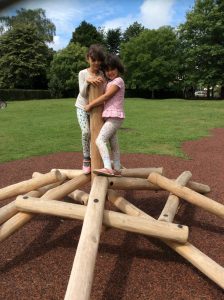 The summer holidays are here and the new picnic & play area in Victoria Park is in full swing. It's great to see the new play equipment being enjoyed by Frome's youngsters and we're expecting it to be a busy few weeks.
The new play space can be found at the Weymouth Road-end of the park. Natural, crafted timber and gentle slopes inspire imaginative play and provide a safe environment for toddlers and smaller children. Perfect for little ones who are just finding their feet – and more seasoned adventurers exploring in the park.
We'd like to say a huge thank you to Frome Lions Club for helping to fund the project; their fundraising work is greatly appreciated and we hope they continue to enjoy their 50th year.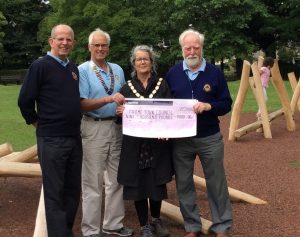 Left to right: Clive Smith (Frome Lions Secretary), Jim Dowling (Frome Lions President), Sheila Gore (Mayor of Frome), Keith McLeod (former Frome Lions President)For more information on the Frome Lions and their other projects you can visit their page: www.fromelions1.org