Today Frome girls Tamzin and Macy, along with NCS team leader Ryan, stopped by the Town Hall to talk to Frome FM about their campaign.
They are part of a group of 15 teenagers – 11 of  whom are from Frome – raising money for Charleton Farm Children's hospice as part of their NCS course.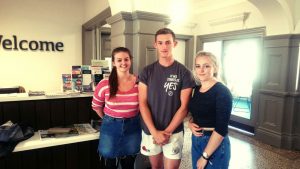 They've only been taking donations for a few days and they've already raised well over their target (£150), but the hard work won't stop there. Over the next two weeks they'll be making appearances at the following events; Wells Market on Wednesday 2nd, Nunney Street Fayre on Saturday the 5th and Frome Independent Market Sunday 6th.
So keep your eye out for them and the others – any additional money they raise will go to the Hospice as a lump sum.
Left to right: Tamzin Ratcliffe, 17, Ryan Whitson-Fay, 20, and Macy Mourant, 17
Find out more about the Hospice here.
You can donate on their Crowdfunder page here.What is NCS?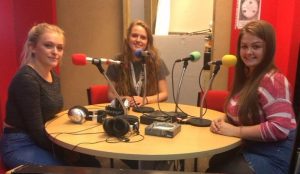 The National Citizen Service is a four-week summer course for 15 – 17 years olds aiming to boost confidence, leadership and communication. Two of those weeks are dedicated to completing a community project of their choice.
Macy and Tamzin are taking part with support from Somerset Rural Youth Project. (SRYP) The youth charity help young people with CV writing, job hunting and work experience placements. They also provide access to many other skill enhancing activites, such as landscape conservation, engineering, mechanics and of course NCS.