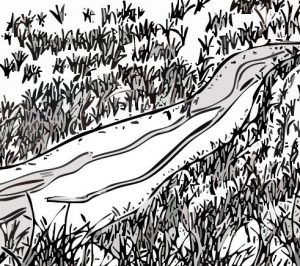 You might not guess from the stretch of The River Frome that you see most often in town, but it is actually is one of the best in the country for diversity and stocks of fish. FTC is partnering with the Environment Agency this Spring to improve the river habitat for fish and wildlife in Rodden Meadow and Weylands. Find out how you can get involved with this project by dropping into our "Love Your River" day, based at the Canoe Club on Saturday 13 February 2016.
We'll be hoping to recruit volunteers to help with aspects of the project. This might range from pulling on a pair of waders on to remove litter from the river, to ongoing monitoring of the water quality and the insect life that the river supports. On 'Love Your River' day itself, there will be lots of information about our plans, and how these tie in with Somerset Wildlife Trust and the ideas of re-wilding that many of you may have heard about.
In the morning there will be angling demonstrations. Young aspiring anglers are encouraged to bring their own tackle with them and Frome Anglers will be on hand to give invaluable tips on how to perfect your techniques. From 2pm to 4pm, you will see members of the Frome Canoe Club paddling the river. There will be a chance to sign up for free taster sessions yourself at a later date.
For more information, or to get involved in this event contact Community Projects Officer knaggr@frometowncouncil.gov.uk